Fund raising
Would you like to raise funds for your charity, club, society, church or school? - A fund raising barn dance can do this, and give you a great social evening at the same time.
"Thank you very much for the excellent band. Many people said how good you were, which really makes the evening a great success, we raised £1,733.00. If we run another event I will certainly use your band again."
Barn dances are not only excellent fun as a social evening for all regardless of age or ability, but also a great fund raising opportunity for your club or society.
Supply and Demand
In the past we have often been unable to help with fund raising events because of bookings to play for weddings or parties. As musicians, Saturday nights are the one evening in the week when we can expect to be working, so sometimes the cost can put off organizers.
Not very satisfactory for anyone - either the event doesn't gone ahead, or else a cheap option is gone for, with an inexperienced group 'having a go'. Not much fun for the dancers, and unlikely to tempt the audience back for another event.
Bands tend to know what they are worth, and charge accordingly, a bad evening will be remembered for the wrong reasons (I heard of audience members goose-stepping behind one rather domineering caller as she went down the hall in the interval!).
We would like your group to have a profitable evening that everyone can enjoy, with the best performers and equipment available, but with a massive 50% off normal prices.
So long as your event is not too far from us (near Tunbridge Wells, just go for a night during the week. The best performers have no problem getting well paid work then, but are often at a loose end From Monday to Thursday.
How much could you raise?
If the total, fully-inclusive price for the entertainment was £295, how much could you raise? Not only will you make money on the door, but also with raffles, sponsorship, bar takings and other ideas we have seen - our free guide has ideas and details.
No Cut Corners
We won't give you anything less than a full, top quality event. You'll be getting the same experienced callers and musicians - just with a saving of 50%!
Full Guarantees
Our usual, 'no-quibble' full money back guarantee would of course still apply – If you don't agree that you've had a great evening, then you won't pay a penny!
As always, all our mains-powered electrical equipment has been 'P.A.T.' tested to comply with Health and Safety legislation.
Contact us now to discuss fund raising options and opportunities, or have a look at this free ebook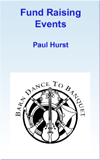 for some ideas of different events you could stage, and the ways they can help to raise funds.