Other performers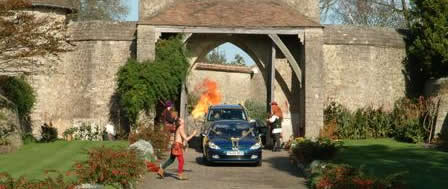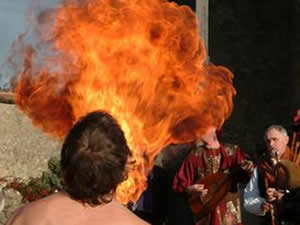 Weddings, parties, corporate events or whatever – having some background entertainment can really help to build 'atmosphere'.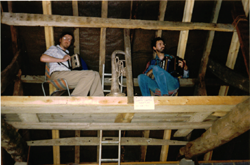 "I don't think they know what a Minstrel's Gallery actually is..."
Over the years we have been asked to provide belly dancers with snakes, Chinese musicians, steel bands, a 'Thespogram' (actor in full 'Shakespeare' costume declaiming a message!), a comedy butler, street entertainers and many groups for themed events – including 'Star Wars', Goth, murder/mystery and 'French Musketeer' style weddings!
Having been playing since the late 1970's, there has been the chance to make a few friends along the way with other performers. We can either combine our acts into a single performance for you, or put you directly in contact.
Here are some comments from past events...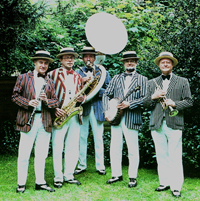 Jazz
"The trio were excellent – we just wish we hadn't employed them just for background music. They were superb."
Opera
"...they were delightful to talk to and played hard. It was excellent – Opera singing – The melodious English variety of sound appealed to everyone. It made the event very harmonious and unique."
Norman & Saxon theme
"Walking across the drawbridge with you playing and the Norman & Saxon song you did during the wedding breakfast was excellent – something I will never forget. The whole day was brilliant – thank you so much for making it so special."
English Medieval Pipers
"Thank you so much for the absolutely perfect music last Friday evening. It was so atmospheric I just loved the pipes." "We all enjoyed you both throughout the ceremony. It certainly was an entrance for me, when you played the pipes down the aisle. It was a great surprise for my family and friends."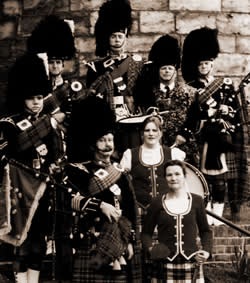 Scottish Highland Piper
"Everyone loved the performance. It was the crowning glory of a very good night. The piper was superb & very friendly and willing to play any tunes the audience requested. EXCELLENT."
Other Customer Comments from themed events
"Everyone agreed it was very different yet fitted in with our theme. Your dress code was excellent, sitting in the courtyard and being involved in our wedding photos was lovely. We will never forget our day. Thank you so, so, much!"
"...the performance was excellent. It was noticed how you involved the children at the end of your performance (very brave but appreciated)."
"I just had to write and thank Jon Loomes & Mike Beeke for entertaining us at my daughter Sophie's wedding on the 14th Sept. They really did work hard & play well & we are very grateful to them for adding so much to the occasion."
"Just a quick line to say a big thank you for arranging for Jon and Mike to play at our wedding last month. They were absolutely brilliant – and charming with it. ...they quietly got on with the job, and added immensely to the atmosphere of the afternoon."